Fun @ Wonderla - Bangalore
Bangalore the Silicon Valley of India, which is known for the climate, pub culture,very good transport and the Job opportunities there is one more mode of entertainment which i recently explored. Thats
Wonderla .
time we used to plan with some professional groups to explore some trek places in Karnataka nothing materialized and i was getting bored. So suddenly at night 11:30 Pm i got a SMS saying we are going to Wonderla... and i said ok lets see what bangalore has to offer. Although i knew wonderla is an amusement park but didn't knew the true potential of the place.
We had 2 cars around 8 people left from MG road at 10:30 am as it was a weekend it took only 35 minutes to reach wonderla which is on mysore road.
I was surprised to see the number of people coming on a weekend even when the ticket rates are so high. It costs little lower on weekdays and 600 Rs on weekends.
We entered and took 2 big lockers (smaller once are very small) 4 guys 2 lockers. The changing room had the lockers and the place was actually good one.. neat and well maintained.
We had a domain expert who actually had been to this place twice ... so we didn't had much trouble in deciding which rides should be taken. Based on his analysis we decided first to take dry rides.. which doesn't require you to change your clothes. ok now the people who dont understand what it is... Wonderla in simple words to speak is a combination of Essel world ( only machine rides i.e dry rides) and Water kingdom (Water one's -Slides, Wave pool and Rain dance with some laser show).
Dry rides were the most thrilling,exciting and the most scariest rides i have ever taken.
Started with Splash - was the most sweetest ride - and once you get down out of it you can see your snap taken by a automatic camera and you can buy the pics from the splash team.
Now comes the most dangerous ones
1. Hurricane
2. Y-Scary
3. tora tora types - dont knw the exact name
The first two are not for the heart patients - i dont have words to explain how thrilling was that.
There were some traditional games like Car, Ant hill (mostly for kids- but adults will also enjoy) and 3D movie. This was my first 3D movie and i felt like as if i have actually experience the ride although it was just a movie.
Would suggest you guys to capture the moments while enjoying the dry rides and ensure you have some one in your group who would not be interested to enjoy each and every ride so that he/she can take care of your belongings and at the same time can capture those thrilling moments in Camera
:
)
By the time we finished it was around 3 and we were feeling dam hungry. And you will be surprised to know that all the packaged foods are sold at MRP. even the food we took like Dosa, south ind meals and noodles were reasonably priced.
After finishing the lunch we changed our clothes and we moved to the 2nd part of the fun rides... thats Wet rides.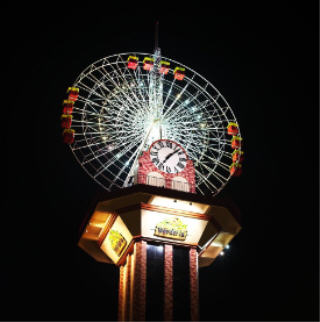 Enjoy some more pics from my collection
Summary ::
1. Leave early to spend great time and to not to miss the rides.
2. Start with the dry ones followed by wet rides
3. Evening at around 6 you can get in to the one minute ride of the Bangalore eye, that one minute is worth. Its a giant wheel on 13th floor.(Ensure you guys have a camera with u)
4. Carry extra pair of clothes.
5. Take up a big locker.
6. Ensure you don't wear shoes have a floaters so that you dont have to remove every time.
7. Food is affordable so you can buy from there.